Ambedkarite People | Educational | Fri, 18 Nov 2016
3 January - Teacher's Day!
3 January 1831 is an anniversary of the Great Educationist of India Bodhisattva Rashtramata Savitribai Phule.

Bodhisattva Savitribai Phule

Savitribai was the teacher who educate all females and all untouchables of India.
Whether we called 'Guru' or 'Sir' or 'Madam' to our teacher, they were, are and will continue to be our guide. They help us in our overall development. We should always be thankful to them for their constructive work.
All Indians expresses and gratitude this by celebrating Teacher's Day of India on 3rd January every year. Since pre 1970 the Dalit Panther, one of Ambedkarite organizations in India, celebrating 3rd January as a 'Teacher's Day of India' in remembrance of Bodhisattva Rashtramata Savitribai Phule, who gave her entire life for:
Educating the females
Educating the untouchables
Educating the poor
Educating the workers
Educating the labors
Educating the senior citizens
Educating all the people of all the age groups from all the castes and communities...
In her all schools, Savitribai always teaches her students about cleanness, importance of education, importance of books, importance of parents and teachers in their life, responsibilities towards their parents, communities and nation, importance of English language as a knowledge source, how to find the simplest way to learn new things.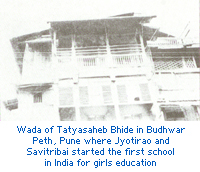 Bhide Wada, Pune - First school in India for females

Building the schools by their own strengths, to spread the education among all the castes and communities, was a very difficult task. And when we talk about this in Indian scenario, we should always be aware how difficult it is in today's date also. The contribution of Bodhisattva Rashtrapita Jyotirao Phule and his wife Savitribai Phule in education field is countless! If Jyotirao and Savitribai didn't worked for our mother's and sister's education, possibility that today's generation could be the 'Generation of un-educated people' and India could be called as 'Un-educated India'. Because if a mother is an educated, her entire family will be educated!
Those who forget the history or knows the history but not ready to accept it due to their 'caste-feelings', they are curse to Indian society. In Marathi language there is a very good phrase 'खाल्ल्या मिठाला न जागणे'!
In 1962 Indian government announced to celebrate 'Teacher's Day' on 5th September. After going through the life sketch of Dr. Sarvapalli Radhakrishnan we do not get any idea about his contribution in education and educating to all castes and classes in a large amount (check this). Becoming a diplomat or politician or Vice President or President or mere visiting the functions of schools and colleges or giving permission to celebrate own birthday as a teacher's day, doesn't mean that it should be celebrated as 'Teacher's Day of India' by the masses. Fact is true teacher never says that one should celebrate their birthday as 'Teacher's Day'!
On the other hand the life of Savitribai was to spread the education among all people from scratch! Even today the Scheduled Castes and Scheduled Tribes are not getting the right to education. On the other hand, Savitribai opened all the doors of education to not only for SC/ST but for Un-touchable than Un-touchable's - the Females too!
It's time to nurture our brain and mind!
It's time to say:
'A' for 'Ambedkar'
instead 'Apple'
'B' for 'Buddha'
instead 'Ball'
'C' for 'Constitution'
instead 'Cat'
In Ambedkarite movement there is a very good and meaningful song:
A father who actively takes part in Ambedkarite movement, saying to his child...
'असं बसून माझ्या म्होर
बोल A फॉर आंबेडकर'
Savitribai never got the respect in her entire life from Indian society (some honored exceptions!) when she was alive and struggling for educating females and untouchables without any help. Now because we know her life, her efforts and her contributions in education and social development, its our duty to spread these facts and to remember the Great Educationist of India!

Lets celebrate the 'Teacher's Day of India' on every 3rd January as it was already started celebrating by Indians since four decades.
HAPPY TEACHER'S DAY OF INDIA TO ALL!!!
Poetry of Savitribai Phule (from काव्यफुले 'Kavyafule')
मानवाचे नाते | ओळखती जे ते
सावित्री वदते | तेच संत ||
(तेच संत)
धोंडे मुले देती | नवसा पावती
लग्न का करिती | नारी नर ||
(नवस)
(जाईचे फुल)
शूद्रांना सांगण्याजोगा | आहे शिक्षणमार्ग हा
शिक्षणाने मनुष्यत्व | पशुत्व हाटते पहा ||
(शूद्रांचे दुखणे)
खरे शूद्र धनी | होते इंडियाचे
नाव असे त्यांचे | इंडियन ||
Books written by Savitribai Phule
काव्यफुले (Kavya fule - 1854, poetry)
जोतीबांची भाषणे (Jotibanchi Bhashne - 25 December 1856, Edited lectures of Jotirao Phule)
सावित्रीबाईंची जोतीबांस पत्रे (Letters to Jotirao Phule - 10-10-1856, 29-08-1868, 20-04-1877)
बावनकशी सुबोध रत्नाकर (Bavannakashi Subodh Ratnakar - 1891)
सावित्रीबाईंची भाषणे (Lectures of Savitribai Phule - 1892, Topics: Industries, Education, Philosophy, Bad Habits, Loan, Character, Honesty)
Books written on Savitribai Phule
Savitribai Phule - Samagra Wangmay (सावित्रीबाई फुले - समग्र वांडग्मय)
Agnifule - Savitribai Phule Yanchi Kavita : Swaroop Ani Sameeksha (अग्निफुले : सावित्रीबाई फुले यांची कविता : स्वरूप आणि समीक्षा)
Life Sketch of Savitribai Phule
3rd January 1831
Birth at Naigaon, Tal. Khandala, Dist. Satara (Maharashtra, India)
1840
Married with Bodhisattva Rashtrapita Jyotirao Phule
1841
Savitribai's own education begins. Jyotirao became Savitribai's teacher
1847
Took 'Teacher's Training' from 'Normal School'
1st January 1848
India's first girls school foundation at Bhide Wada, Budhwar Peth, Pune (Maharashtra, India).
Savitribai became the first female teacher of all Indian females!
1st May 1849
Foundation of Elder's School at Usman Sheikh Wada, Pune. Again...
Savitribai became the first teacher of all Indian elders/senior citizens!
1849
Quit home of father in law with Jyotirao for the education and upliftment of Shudra-Atishudra (Untouchables in Hindu religion)
1849-1850
Foundation of more schools in Pune, Satara, Ahmadnagar. And Savitribai became the teacher of them
1852
Inspection of all schools and prepared a draft on 'Who is the honored Teacher'
12th February 1853
A celebration of thanksgiving to Jyotirao and Savitribai at Vishrambaug Wada, Pune for their contribution in education
1853
Foundation of 'Balhatya Pratibandhak Gruh' at Pune for Brahmin widows. Savitribai was taking care of those children
1854
Published 'काव्यफुले (Kavyafule) - Savitribai's first poetry book. 41 poems on nature, social, pray, self, poetic, historic, education and some other topics. Savitribai's poems was 30 years older than K. K. Damle (known as Keshavsut, a marathi poet). Thus Savitribai is the 'First Modern Marathi Poet'
1855
Foundation of 'Night School' for farmers and labors (for both females and males). Again Savitribai became the first teacher of Indian night school, farmer's school, labor's school
25th December 1856
Published 'जोतीबांची भाषणे' (lectures of Jyotirao)
1864
Foundation of 'Anath Balkashram'
1868
Opened the 'Houd' (Well) for Shudra-Atishudra
1875-1877
Opened 52 (fifty two) 'Food Camps' at Pune. Became the active member of 'Satyashodhak Samaj' founded by Jyotirao Phule on 24th September 1873
4th February 1889
Inter-Caste marriage of son Dr. Yashvantrao (Adopted from a Brahmin widow) with daughter of Sasane
10th March 1897
'Parinirwan' of 'Great Indian Teacher and Educationist' by plague.
Lets come forward and celebrate Teacher's day of India on 3rd January with great respect to Savitribai Phule
Read more...